Architectural Portraits: The Secrets and Stories Contained Within
Italian photographer Massimo Listri has become renowned for bringing a vibrant energy to interior spaces while delivering a clean and masterly vision. His architectural portraits capture the majesty of grand structures, but also reveal the smallest details with a power to expose the secrets and stories contained within. Listri instills a feeling of awe that permeates the interiors of his compositions when all humans have disappeared and what remains is the splendid architecture that becomes the backdrop to human drama. This awe creates a sense of calmness while his intuitive sense of perspective, equilibrium, and use of only natural light complete his masterful and mysterious compositions. As Listri puts it, his photographs offer, "an expression of tranquility and silence in this chaotic society." He finds and photographs spaces that have aesthetic and historic wealth in such a way that preserves their beauty and simultaneously enhances their history. He uncovers lost worlds and is constantly unearthing stories.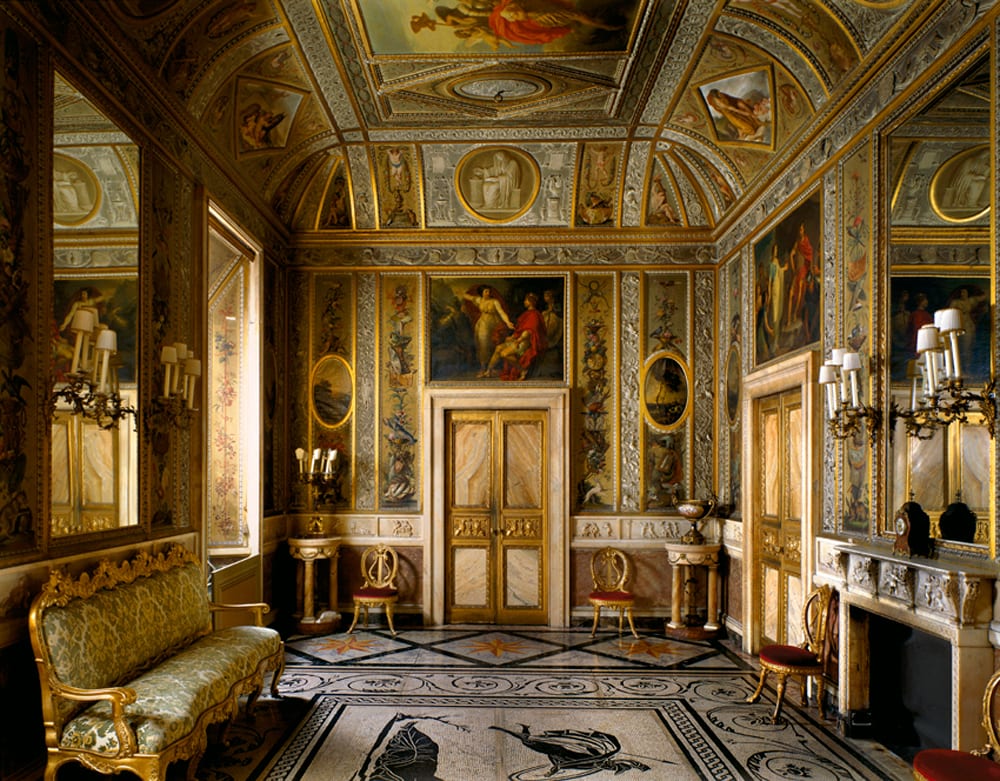 Palazzo Altieri, Roma
In Listri's "Palazzo Altieri, Roma," he offers an intimate look at an aristocratic interior seemingly throwing the doors wide open upon this magnificent 17th century Baroque space located in the heart of Rome. Palazzo Altieri remains an emblematic example of the sumptuous and lavish interiors laden with gilding and richly decorated halls that characterized Roman Baroque architecture. It was built as a befitting residence for the last descendants of the Altieri family who were perhaps the most prominent noble family in Rome during the period with Emilio Altieri becoming Pope Clement X in 1670. His time as Pope coincided with further grand renovations suitable for the powerful family including the salon aptly captured by Listri. The salon itself contains major works of furniture and paintings from the period, beautiful frescoes by leading Roman artists, and even an ancient Roman mosaic from Ostia depicting Mars and Rhea Silvia located on the floor. Palazzo Altieri was a symbol of power and prestige at the time, and today Listri deftly captures the atmosphere of the impressively opulent space though his intuitive sense of perspective and composition revealing a tranquil and beautiful world for all to see.