What separates one photographer from another?
What shapes the greatness of a career and makes it legendary? Photographers can vary significantly in their intent to work in one aspect of photography or another, i.e., fashion, landscape, still life, photojournalism. For many, excelling in one genre is a rewarding and remarkable achievement. Fortunately, certain compelling artists break the mold, cutting across existing aesthetic limits in the profession to create tantalizing photographs, such as Frank Horvat.
Transcending Boundaries
Photographer Frank Horvat has managed to transcend boundaries in photography with a career spanning over five decades. Multidirectional in his focus, Horvat worked through genres and styles, first as a photojournalist and then as a fashion photographer. He challenged conventions and liberated the camera from the studio into the vibrant city streets with his fashion work. He elevated the art of fashion photography by choosing naturalistic settings and techniques, consciously deciding not to put models on a pedestal, resulting in relatable pictures representing daily life. His eye understood the way people lived and how fashion could be appreciated.
Celebrating the expressive potential of photography
His versatile mastery in photography helped forge a unique aesthetic, ultimately creating a body of work that, aside from iconic fashion images, includes landscapes, portraiture, and surreal post-production work. Ultimately, Horvat's work celebrates the expressive potential of photography. Inspired by his extensive travels and experiences within diverse communities, he created pictures that capture a wide range of lived and imagined experiences. Horvat successfully captured the fleeting moments of the human condition.
The Early Years
Frank Horvat (1928 – 2020) was born in Abbazia, Italy, today known as Opatija, Croatia, to a family from Central Europe. His parents both worked in the medical field: his father, Karl, a physician, and his mother, Adele, a psychiatrist. The family escaped fascist Italy and fled to Lugano in 1939, where Frank attended school. In 1944, at the age of 16, Horvat sold his stamp collection and bought a used camera, foreshadowing his photography career. He began his incursion into the fine arts by studying at the Brera Academy in Milan. By 1951, Horvat had submitted his first photographic body that presented images of Southern Italy. His first color photograph was published on the cover of the magazine Epoca. That same year, Horvat traveled to Paris for the first time and met legendary photojournalists Henri Cartier-Bresson and Robert Capa. Following his meeting with Bresson, Horvat took his advice and traded his Rolleiflex camera for the Leica, a popular point and shoot camera used by photojournalists at the time. Horvat then embarked on a journey through Asia as a freelance photographer. The resultant trip helped foster an aura of wonder in his photographs. It helped him develop a keen and original observational eye. He created several pictures that were published by Paris Match, Picture Post, Life Magazine, Revue, and Réalités.
France in the 1950s
By the age of 27, Frank Horvat had lived in Italy, England, Switzerland, Pakistan, India, and the United States, before eventually settling in France by 1955. The same year, one of the most influential figures in photography, Edward Steichen, included Horvat in his legendary exhibition, The Family of Man, which toured the world and was seen by over 9 million visitors. By 1957, Horvat continued using a 35mm camera to shoot photographs for the French fashion magazine Jardin des Modes. In the late 1950s, he consecrates his admission as one of the most important and inventive photographers working in the field of fashion. In 1959, he joined the iconic Magnum agency of Bresson and Capa and would remain a member for three years.
Uncovering the "Real" Woman
"From my adolescence and through the first years of my adult life, the woman of my dreams was the opposite of my mother (Dr. Freud wouldn't have been surprised). Which is to say slender, tall, and not in the least intellectual. So that getting into fashion photography, for me, was like entering a Promised Land, where everyone of those who presented themselves in front of my camera seemed to come from that mold. Only they were loaded with scoriae. There were some I couldn't get rid of: like the gowns, suits, overcoats, hats, and the other accessories they had to wear. They were hardly to my taste – but after all, I was paid to photograph them…
All that didn't fit with my dreams. But even worse were their stereotypes: the ardent gaze, the cheery smile, the dreamy look, the orgasmic half-opened mouth, the hysteric laugh, not to forget the proud gait, the sexy hip, the sensuous throwing back of the head. It spoilt my dream, made them less believable – and hence less lovable. So, to uncover the 'real' woman, my fashion photography became a war against windmills. "Wipe off that lipstick! Take out those false eyelashes! Couldn't we try with your own hair? For heaven's sake stop smiling! And don't look at the camera!"
They didn't like it. Neither the models, who had invested in their wigs, nor the hairdressers and the make-up artists, whom I antagonized, nor the fashion editors, whom I made feel insecure. But my photos got published because ready-to-wear needed a more realistic photography and because the editors-in-chief knew it." – Frank Horvat.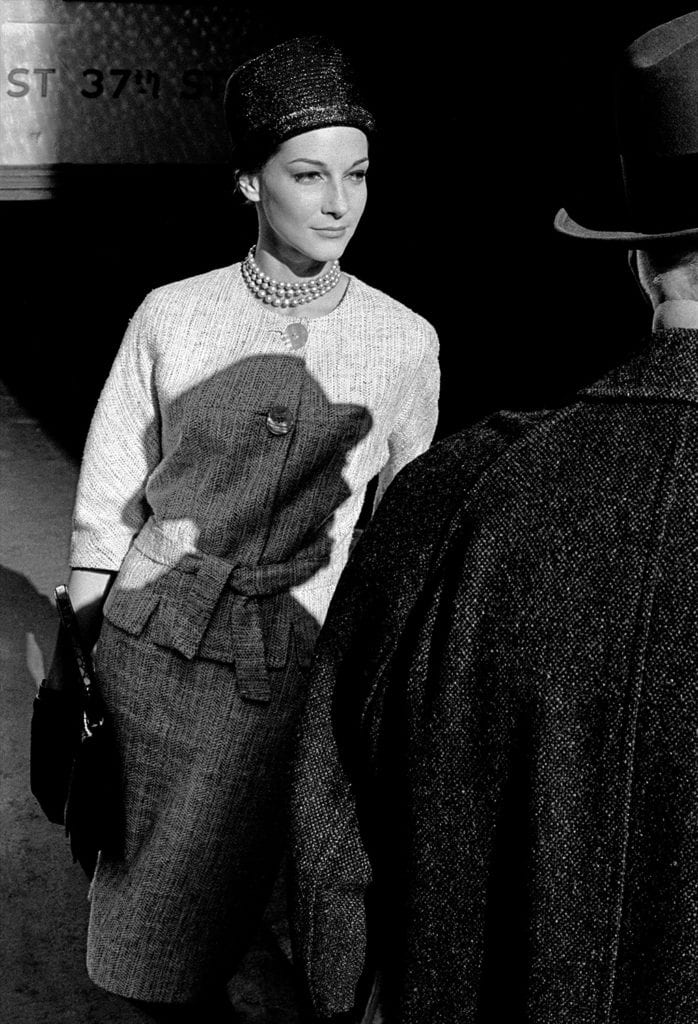 Harper's Bazaar, Vogue & Elle
By the '60s, Horvat was working for the top magazines around the globe, including Harper's Bazaar in New York, Vogue in London, and Elle in Paris. Horvat's photographs continued to present models in the street and use naturalist settings, replacing the static, poised notion of fashion photography for one that showed the garments in the context of everyday life. Horvat also began to establish his credentials as an exceptional street photographer with this work.
Five Decades of Photography
In the 1970s, 1980s, and 1990s, his subsequent ventures saw Horvat experiment with color photography, personal projects, and the increasing use of technology in his photography. Through five decades, Frank Horvat demonstrated his versatility, mastering the most varied subjects. Although he became a celebrated proponent of fashion photography by challenging studio-based conventions, he continued to experiment (the sign of an inventive artist.) Similar to his fashion pictures, he combined realism and artifice, using the latest advancements in photographic technology while becoming one of the first established photographers to experiment with Photoshop. Essentially, Horvat's capabilities as an auteur of the still image are manifest in every one of his creative endeavors.
Influencing Fashion Photography
Horvat's journalistic bend to fashion photography influenced the genre. He continued to photograph aspects of cities and urban life persisting in the style and subject matter that first brought him to the medium. While always looking to present a strong independent voice in his photographs, Horvat developed a unique body of observant, empathetic, and deeply human work. His artistry helped move fashion photography from the studio to the sidewalk, helping fashion become a medium to express bold personal statements. His unique vision will be missed by those who cherish his daring, cosmopolitan style.
"I wouldn't say that the places shaped my outlook: but that my outlook shaped the way I photographed those places." – Frank Horvat
Thanks

To all the beloved ones

all the unknown ones,

to all the cats, dogs, trees,

objects, moments, streets, situations

that I had the luck to record,

to all I say: thank you for having been.

And, if I were allowed,

I would add: please, once more.

-Frank Horvat
Select Museum Collections:
Bibliothèque Nationale, Paris
Centre Pompidou, Paris
Eastman House, Rochester, NY
Fondation Cartier, Jouy-en-Josas, France
Fonds National d'Art Contemporain, Ministère de la Culture, Paris
Fundation Privada Vila Casas, Barcelona
High Museum of Art, Atlanta, USA
Kunstbibliothek, Berlin
Ludwig Museum, Köln, Germany
Maison Européenne de la Photographie, Paris
Musée Carnavalet, Paris
Musée de Nantes (France)
Musée d'art Moderne de la Ville de Paris, Paris
Musée Galliera, Paris
Museum of Modern Art, New York, USA
Presentation House, Vancouver, Canada
Victoria and Albert museum, London