Pisani – First of all, you guys work as a partnership in the arts and in your personal lives as well. How did you meet each other?
Browar & Ory – Ken and I met through friends we had in common. We had been a couple for some years before we started working together creatively as photographers. But it took some time for us to find our vision for the project and to keep a cohesive look with two photographers collaborating, as we both had worked independently for so many years.
Pisani – Ken worked in Paris within the fashion world for many years. He stated before that he initially went to Paris to work there for six months. What made him stay for more time after that?
Browar & Ory – Ken went to Paris after high school and started working as a fashion photographer. It was an exciting time to be a photographer in Paris as there were many beautiful magazines to work for and many opportunities for young photographers. He met other people from around the world in the photography community, and so he decided to stay and did so for many years after.
Pisani – Deborah, you worked as a professional dancer. You have said that after an injury, you began to take photographs of the performances you would have been in. What can you say are interesting differences moving from being the performer to the active spectator, recording the dancers?
Browar & Ory – It was a big change being on the other side of the camera. Being a photographer is closer to being the choreographer – it's about having a vision and creating a piece of art. While dancers are also artists and use their bodies to express emotions, the overall look of the dances is created by the choreographer. I very much enjoyed being the photographer and having a chance to express my feelings about dance in images. And with this project, being the choreographer presented a new challenge that I enjoyed just as much.
Pisani – Your photographs incorporate beautiful fashion and flowing fabric. What inspired you guys to capture not only dancers but the fashion you use in your pictures in such a striking way?
Browar & Ory – From the very beginning of our project, we thought about how to dress the dancers for our photographs. Like a dance performance, the costumes or clothing the dancers wore helped to define the feeling, emotion, and character of the images. We did use traditional dance costumes but found we really loved working with interesting clothing items that added another element to the images. We responded to the way the dancers were able to move their garments and the energy and movement it added to the photographs. Our second book focuses entirely on the relationship between dance and fashion, or style.
Pisani – Are there any unique differences going from shooting fashion and models to capturing fine art photography using dancers and movement?
Browar & Ory – It is completely different working with models than it is working with dancers, especially when working with fashion. Dancers are able to move the garments in a unique and special way that gives the clothing a life of its own. Every piece of clothing we work with has its own character, mood, and way of moving, independent of the dancer. It was often hard to control the way the fabric moved, so it could take some time to learn to manipulate the garment and find the right movements that allowed the fabric to flow and would best express the style of both the dancer and the clothes. Adding fashion was like adding a partner for the dancer, and with any partner, you have to practice working together.
Pisani – Do the older generations of dance photography influence your work? You've mentioned before that the lack of new representation of dance photography was an important driver in your pursuit to create your current projects.
Browar & Ory – Barbara Morgan is one of the photographers whose works have influenced our work. We both love the work of many of the great masters of photography, such as Avedon and Penn. We are both photography collectors and have a deep appreciation for the work that has come before us. We just think what we're doing is unique for its time and place.
Pisani – What does your work bring to photography that has not been done before?
Browar & Ory – At this point in the history of photography, there is not too much that has not been done before! I don't know if that was ever our intention to create something completely revolutionary; rather, our goal was to capture our own expression and voice. That, of course, makes it unique in its own way.
Pisani – What important traits do you look into when photographing a dancer?
Browar & Ory – We are always looking to photograph dancers who inspire us with their expression and movement qualities. Our process usually begins with meeting the dancers over a cup of coffee and spending some time getting to know them. It's important for us to find out a bit more of who they are and what they individually would like to achieve with the photographs.
During our actual sessions, we would spend a lot of time experimenting and trying different movements, clothing, lighting, etc. This time that we spend on creative exploration, while not being concerned with achieving a perfect outcome, was crucial to our process. After working this way, we would review the images with the dancer and focus on choosing just a few positions or elements that we liked. Then we would take the time to refine the image. For example, we might adjust the lighting or change elements within the pose – perhaps a different arm position or angle. It was always important for us to leave the photo session with just a few images we felt strongly about rather than have a lot of pictures that might be just average. We are looking for those really special moments, and when they happen, everyone on the set knows right away.
Pisani – Has the NYC Dance Project influenced the dance community in NYC?
Browar & Ory – We hope so! It's hard to say exactly how much we have influenced the dance community. Still, hopefully, we have spread the awareness of this beautiful art form to others who may not have seen much dance before.
Pisani – Any future projects in mind?
Browar & Ory – That's a difficult question to answer right now. Immediately after we finished our second book, there was a fire in our home/studio, and we had to move out while the space was being reconstructed. Shortly after this, the pandemic hit, and many of the dancers we worked with left New York temporarily to be with their families, including many international dancers who returned to their home countries. It's been a time of regrouping, refocusing, and thinking about what direction we will want to work in. Dancers are just now beginning to return to NYC and are starting rehearsals again for future performances. We've been thinking more about doing location and outdoor photos – partially due to the fire – and also to change things up with our images, to challenge us in new ways. It's a time of healing and new creativity, isn't it? We are very much looking forward to seeing where this takes us! As for another book….of course, anything is possible!
Pisani – Any interesting stories you would like to share from the NYC Dance project?
Browar & Ory – There have been many unique and challenging shoots we've worked on. The Degas series with Misty Copeland was quite a challenge for us, trying to creatively recreate the paintings without the process feeling awkward. It was complicated both creating the sets for these images, as well as in ensuring that the images evoke the feeling of paintings. Another challenging photo for us was the Meaghan Grace Hinkins photograph of her wearing a dress made of flowers. Meaghan's mother is a costume designer, and we have a friend who is a creative director with a flower company. Together, we all made the dress literally on Meaghan, which took several hours. The flowers were dying as we were making the dress on her! We really were not certain if the dress would come together until the moment we finally took the photo. And the dress was so heavy that once it was finished, Meaghan actually had a difficult time dancing, and with the flowers dying on us, we only had a second to take the image!
---
Photographers Ken Browar and Deborah Ory are the creative team behind the NYC Dance Project. This photography pursuit documents the world's elite dancers in NYC through captivating and compelling photographs. The renowned NYC Dance Project, which aims to record each dancer's unique strength and beauty as well as to capture the passion and emotion of dance, was born out of a desire to profile these contemporary performers. When looking for photographs of today's exceptional dancers to gift to their ballerina daughter, Ken and Deborah realized that many of the greatest classical dancers, such as Baryshnikov and Graham, were well documented by influential classical photographers.
However, present-day photographers were not concentrating on picturing contemporary dancers. As both had a passion for dance (Deborah as a retired dancer), Browar and Ory merged their backgrounds in fashion and editorial photography and embarked on a project documenting the dance community and invited soloists from many of the world's most excellent dance companies into their Brooklyn based studio for photographic sessions.
Ken Browar grew up in Los Angeles and moved to Paris at age 19 with a plan to remain for six months and learn the art of photography. His 6-month stay turned into 20 years. His love for photographing movement began by capturing dancers at the Paris Opera Ballet. His fashion photography has been featured in many European magazines, including Vogue, Elle, and Marie Claire.
Deborah Ory is a retired professional dancer whose passion for ballet started as a young child. She began photographing the rehearsals she was supposed to be in using a camera her father had brought home, creating a connection between photography and dance early on. Her work includes editorial assignments for House & Garden, Mirabella, Self, Health, Martha Stewart Living, and Real Simple. Ken and Deborah together both form the collaborative partnership that is the NYC Dance Project.
Power, Passion & Pose: Photographs by Ken Browar and Deborah Ory
On view May 21, 2021 – September 6, 2021
Power, Passion & Pose: Photographs by Ken Browar and Deborah Ory
Power, Passion & Pose: Photographs by Ken Browar and Deborah Ory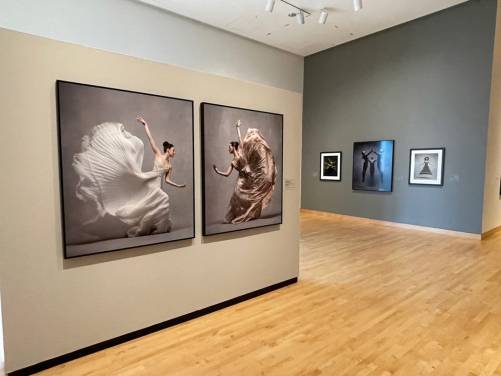 Power, Passion & Pose: Photographs by Ken Browar and Deborah Ory
Power, Passion & Pose: Photographs by Ken Browar and Deborah Ory
Power, Passion & Pose: Photographs by Ken Browar and Deborah Ory
Power, Passion & Pose: Photographs by Ken Browar and Deborah Ory
Power, Passion & Pose: Photographs by Ken Browar and Deborah Ory
Power, Passion & Pose: Photographs by Ken Browar and Deborah Ory
Power, Passion & Pose: Photographs by Ken Browar and Deborah Ory